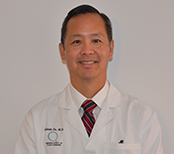 Making the decision to have cosmetic surgery can be one of the most exciting decisions you'll make in your life! With so many options and choices, the process can be confusing, and making a desired change to your face or body may seem unattainable. Let Dr. Lo help you understand realistic cosmetic choices specific to you and your goals, as he will guide you through your cosmetic surgery journey with the utmost respect to your dreams. It all starts with scheduling a complimentary consultation with Dr. Lo and his experienced and passionate staff. Our friendly and comfortable offices help you feel secure and confident that you are in very qualified hands. We will help you understand options available to you, discuss what you want to change about your appearance, the realistic results that can be expected, and why the area's top Board Certified Plastic Surgeon, Dr. Adrian Lo, is the right choice for you!
Dr. Adrian Lo proudly adds to his resume many prestigious awards, verifying he is Philadelphia's premier TOP DOC!
With the ease of internet searches, patients are able to read hundreds of recent patient reviews vist ratemds.com, vitals.com, yelp.com, healthgrades.com, realself.com and Google.com and quickly realize that Dr. Adrian Lo is a kind, compassionate and skilled board certified plastic surgeon who has excelled at all levels and types of cosmetic surgery procedures with amazing results.
Dr. Lo's background and qualifications:
Dr. Lo is a double board certified plastic surgeon, from the Royal College of Physicians and Surgeons of Canada (1991) and the American Board of Plastic Surgery (1993).
Following his studies, Dr. Lo become Assistant Professor of Plastic Surgery at Temple University in Philadelphia, PA. His responsibilities were the Cleft Lip/ Palate and Craniofacial Program at St. Christopher's Hospital for Children. In addition, Dr. Lo was in charge of the five-bed regional pediatric burn unit for 7 years. Dr. Lo is also cultured in epithelial auto-grafts (artificial skin). While at Temple University, Dr. Lo taught medical students and plastic surgery residents about all the latest techniques in plastic surgery. Dr. Lo became well known and had two young patients featured and profiled on CNN and CNBC. This was the beginning of endless features and profiles in Men's Health Magazine (2016),USA Today, The Philadelphia Inquirer, Philadelphia Magazine, and PhillyFIT Magazine that have documented Dr. Lo's work in plastic and cosmetic surgery.
Most recently and for many years, Dr. Lo was involved in the teaching of plastic surgery residents at the prestigious plastic surgery program at the University of Pennsylvania.
Dr. Lo is a humanitarian at heart
Upon meeting Dr. Lo, you will quickly see his authentic and genuine nature, he is deeply compassionate and understanding. He believes in 'paying forward' the blessings he has received in his life as an accomplished plastic surgeon, and has has participated in many charitable interests, such as participating on the Board of Directors of Operation Smile (Philadelphia chapter). He has performed numerous life-changing surgeries in Nicaragua and China, all while building his practice in Philadelphia and South Jersey. Dr. Lo has touched many hearts, giving hope and allowing many patients to enjoy new beginnings in their lives.
CREDENTIAL:
1993 American Board of Plastic Surgery
1991 Royal College of Physicians and Surgeons of Canada
Professional Associations: American Society of Plastic Surgeons, American Society of Aesthetic Plastic Surgery, Alpha Omega Alpha Honor Society, Canadian Society of Plastic Surgeons, American College of Surgeons
Medical Doctorate: magna cum laude University of Western Ontario, Canada
Surgical Internship: University of Toronto, Canada
Plastic Surgery Residency: University of Western Ontario, Canada
Additional Postgraduate Fellowships: Craniomaxillofacial Surgery, Providence Hospital, Detroit, MI
Oral and Maxillofacial Surgery, Louisiana State University, New Orleans, LA